We just received our open enrollment package. Our insurance is going up 42%. This is one of those rare times when people share financial information at my place of work. How much their 401k tanked last year (we also have our 401k annual review meeting on the same day as our open enrollment meeting), how much they spent on medical bills, what big medical expenses they are expecting this year, how are they planning to save for it, etc.
It is a whole day of meetings, snacks and fun talk. This is also the time we all brag about how we saved money. Sometimes the ideas are good, sometimes they are horrible. While we are busy feeling good about reducing little costs here and there, every once in a while we neglect the larger picture. Here are some examples :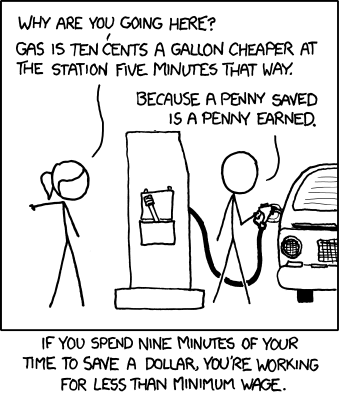 Picking the wrong health insurance : Everyone talks about how wonderful High deductible health plans and HSAs are. They are good ONLY as long as you are healthy enough to not have frequent doctor visits. If you have any medical conditions and a doctor you regularly go to, it might just make sense to pick the right HMO and pay the extra in insurance premium.
Not going to the doctor for regular check-ups : It is one thing to save money by shopping for insurance, but some people don't go to the doctor at all to save money. If you leave any conditions untreated or worse undiagnosed, you will pay a lot more than money.
Opening a store credit card for x% off : Opening a store credit card to save 15% off and then paying it off slowly at an interest rate of 30+% and late fees.
Hunting for low gas prices : Driving around looking for the cheapest gas station or driving half an hour out of the way to save 5c off a gallon. Or obsessing about gas prices but buying a costly gas guzzling SUV.
Storing junk while leaving your car outside : I really couldn't understand this logic when I first came to the US. People store their junk and unwanted items in the garage and fill it up. But park their expensive car on the streets. Why?
Not hiring a tax accountant or hiring the wrong one : For most common tax situations tax software do a great job, so there is no need to hire a tax accountant. But some situations might warrant hiring one, at least for the first year, when handling a new life situation. We try to do it ourselves and miss out on tax deductions. An even worse mistake is going to a tax accountant who charges a % of your return and promises to get as much back as possible. You will be paying a lot more to the IRS in taxes and penalties.
Buying the cheapest product without paying any attention to the quality and having to replace it frequently because of poor quality.
This is one of my favorites – Parking and "just running in" to pick something up without feeding the parking meter, but returning to a parking ticket attached to your windshield.
Using coupons to save money while buying something that you won't be using.
Waiting to learn to choose the best funds for investing and not starting to contribute to a retirement fund right away.
Got more?
Image source : Xkcd