Two Saturdays ago I attended Bloggy Boot Camp conference in San Diego.  This conference is held six times a year at major cities around the U.S.  which changes from year to year.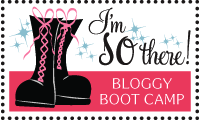 I remember being so excited when I learned this conference would be in San Diego in 2011!  The weird thing about attending a one-day conference is your own home town is that there really isn't much preparation.
This changed the experience from other blog conferences I've attended.  I didn't focus on connecting with other attendees and felt a little disconnected there as a result.
Learnings
The agenda included speakers on a range wide of topics.  There was so much great content that I'll boil it down to my top two takeaways from each speaker.
Ten Ways to Build Your Traffic by Ashley Stock
1. Blog stats tell you much more than how many people visited. A new site to me is Whos Amung Us.
2. Define what is success to your blog (number of subscribers, amount of revenue, etc.) and focus on making it happen.
What's Your Story? Long-term Growth and Monetizing Strategies for Bloggers by Anna Viele
1. You need a story; if you don't create it someone will make one about you.  Your version will be far more flatting.
2. Trust capital is different from social capital.  You build it by being yourself (warts and all) and being transparent.
Simple Steps to a Kickin' Vlog by Mary Burt-Godwin
1. Practice the vlog and record it a minimum of three times.
Editing is to vloggin what proof reading is to blogging.
Letting Your Writing Sing: Narrative Arc and the Writer's Voice by Denae Handy
1. Everyone loves a good story which should include a narrative arc and the hero's journey.
2. Speak it then write.
Business of Blogging Overview by Tiffany Romero
1. If your blog makes more than $3,000 a year, get a separate bank account.
2. Get a DBA or LLC and make sure you have sufficient insurance coverage.
1.Figure out your role on the web.
2. Understand your promise and your story.  What brought you the ponit you are at today?
1. Hire and delegate your weaknesses.
2. Build a newsletter for the best response to new offerings.
Contract Law for Bloggers by Danielle Liss
Danielle is one of my favorite bloggers and she made contract law interesting which is not easy.
1. Never accept blanket indemnity; just due to your breach of contract or negligence.
2. Do not agree to AAA arbitration as it is very expensive.  Instead use local law (where contract executed).
Essentials of a Media Kit by Francesca Bonducci and Tiffany Romero
Francesca is Tiffany's partner on SITS.
1. Download other blog media kits for examples and ideas.
2. Tell advertiser why they should work with you with data, testimonials, elevator pitch and more.
Sponsors
Lunch was sponsored by Smart and Final and included incredible cheesecake.  They also gave every attendee a reusable bag filled with products from their First Street and Ambiance lines.
Good Cook via Collective Bias gave a bag full of kitchen utensils to attendees as we left.  (I will giveaway a number of these on Two Savvy Sisters soon so be sure to follow me there.)
Mirassou Winery was there and sponsored the wine tasting which I did not attend.  I was afraid to get tempted by all the great wines and then have to drive after.
Thoughts
The content was very good.  A couple of speakers referred to attendees as mommy bloggers.  Newsflash! Not every woman blogger is a mommy blogger.
We changed tables with each topic during the morning to encourage networking.  I wish we had more time for introductions each switch.  It was great to meet other bloggers in my city.
My only other suggestion is to have snacks during the morning and afternoon breaks.  I would gladly pay a couple bucks extra registration fee to have cookies or some other pick-me-up.
These are very minor complaints (more like observations).  Tiffany and Francesca do a great job organizing six conferences a year.  Would I go again?  You betcha!