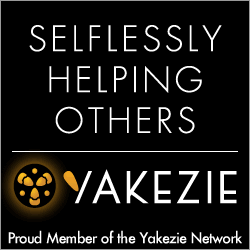 It's my turn to host the carnival for the Yakezie Network.  What a ride it's been joining  forcing with some of the best personal finance blogs.  Since March I moved to the top 50 blogs on the Wise Bread list, made friends, earn more plus learned a whole lot.   New challengers are welcome!
One of the best things about this group is the support.  It would be impossible to give back as much as I receive, but I'm trying.
I hope you enjoy reading this week's submissions as much as I did.  They're grouped by networking principles.
Set Goals
In order to measure the effectiveness of networking, set measurable goals.  Each Yakezie member sets an Alexa ranking goal.
Forest at Frugal Zeitgeist shares Tips for Living on a Budget. This isn't just a list of ways to cut back but more a how to shift your thinking.
Blog Action Day lives on in this article from BFS at Budgeting in the Fun Stuff on bottled water. Join the discussion on this controversial subject.
Mike at Saving Money Today has 5 tips for building wealth. I share his struggles with the third tip as well.
Learn How To Spend Less On Children's Halloween Contumes from Parenting, Family, Money. You only have one week!
Squirrelers thought Duke Graduates were Smart and tells one story with a great lesson.
Help Others
The words "selflessly helping others" is taken to heart by the members.  We support each other with comments, retweets, and other social media promotion.  Any questions about the business of blogging can be answered by the expertise in the group.
A perfect example of helping is this plea from Khaleef at Faithful With a Few to Help Find a Cure for Juvenile Diabetes. Read how you can make a difference!
Dr. Dean from the Millionaire Nurse Blog gives us stock buying 101. I am saving this one for when I'm ready to pick individual stocks.
Supplement your knowledge with a step-by-step investing guide for newbie investors from Craig Ford at Money Help for Christians.
Mr. Money from Smart On Money tells a story on Retiring Wealthy on an Average Salary. Read how one altruistic educator did just that.
The hippie in me likes the thought of Socially Responsible Investments. Take a look at four shared by Mark from Buy Like Buffett.
Mrs. Not Made of Money teaches How To Document Your Assets For Insurance Purposes. I really need to do this!
Build Relationships
As part of helping others, relationships are naturally built.   We foster them with guest posts, forum conversations and social media chatting.
Charles from Money, Green and Life shares how you can save 5% at Apple Store with Discover. Check out all the details before you shop.
While we're on the subject of shopping, Kris from Everyday Tips and Thoughts shares Why I am Not a Member at Costco or Sam's Club. She makes a compelling argument for why some don't need warehouse clubs.
Darwin from Darwin's Money confesses his Worst Trade Ever so hopefully you won't repeat it. I love the image on this article.
Do you know What To Do With Your Money In Your 20s, 30s, And 40s? Read these ideas from FBB at Free from Broke.
Kevin from Financially Poor discusses Managing Awkward Financial Situations. Good advice as we head into that season.
I'm closing this carnival with one of my favorite posts from last October on the Importance of Living Wills. It's a personal story on the subject.
The Yakezie Network is an example of the power of working together for common goals.  Check out the carnival next week at Money Funk.
To be sure not to miss any Bucksome Boomer updates subscribe via RSS reader or by Email.
Content © Bucksomeboomer  2009-2010. All Rights Reserved.